LichtensteinRE Has Just Sold an Industrial Warehouse in Hunts Point, South Bronx, NY for a Record Price of $7,325,000 to The Wonderful Company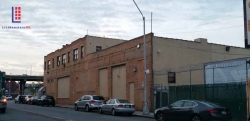 New York, NY, December 07, 2017 –(PR.com)– LichtensteinRE has just successfully sold an industrial manufacturing refrigerated and freezer distribution warehouse located at 1123 Worthen Street in Hunts Point, South Bronx, New York, 10474. The property was sold for a record price of $7,325,000 all cash.
Back in 2008 Gourmet Guru a gourmet food distribution company founded in 1996, acquired this property and invested millions to outfit it as a state of the art refrigerated and freezer center centrally located in Hunts Point. In 2016, Nasdaq traded United Natural Foods Inc. and Fortune 300 Company, with nearly $9 billion in revenue and over 1,000 trucks is the largest distributor of natural and organic foods, specialty foods, and related products in the United States and Canada and is the primary distributor to Whole Foods Market, bought Gourmet Guru for an undisclosed price. UNFI leased back the entire property until mid 2017. Just recently Andrew Lichtensetin sold this property which was delivered vacant at the time of the sale to new buyer The Wonderful Company based in California, one of the largest privately owned companies in the entire country with $4 billion in sales. The Wonderul Company is a grower and distributor of 9 of their own brands including famous household names like POM Wonderful Pomegranate Juice, Wonderful Pistachios, Wonderful Almonds, Fiji Water as well as halos, Wonderful Sweet Scarletts Texas Red Grapefruit, Teleflora fresh flower delivery, Justin World Class Wines and Landmark Vineyards and Winery.
According to NYC the property has 14,320 above ground usable square feet; however, including the usable storage cellar and parking lot there are actually 33,000 usable square feet at this industrial warehouse. The sale's price represented a $512 per square foot and a Cap rate from the prior UNFI tenant of around 4.47%.
The warehouse property located on the very desirable corner of Barry and Worthen Streets, is in mint condition, and was fully modernized, retrofitted and renovated in 2010.
This industrial property built in 1920, contains brand new offices and conference rooms, state of the art security digital high definition cameras, usable expandable exterior roof deck, leed certified energy efficient HVAC cooling refrigeration system, fenced yard and a freight elevator. The building possesses a tremendous amount of electrical power consisting of two 400 amperage electrical panels, and five 250 amperage electrical panels making a total of up to 2,050+/- amps of electricity. Equally important, the property contains a corner parking lot with four 18 Wheel Truck Refrigerated Loading Bays.
The new buyer will also get the property's Premier location in (NYEZ) Economic Empowerment Zone benefits, including, but not limited if applied for and approved, low interest loan availability, tax credits, reduced/exempt real estate taxes, discounts on Con Ed gas and electrical utility rates, huge savings on mortgage recording tax and construction exemption sales tax.
The building is located in the trendy Hunts Point Section of the South Bronx, the New "Piano District." Like Mott Haven and Port Morris, Hunts Point is going through a gentrification process. As an example, average rents in Mott Haven/Hunts Point rose by 28 percent between 1990 and 2010-2014. Additionally, almost 46% of all development in the Bronx is happening in the South Bronx.
The property is right off the Hunts Point Food Distribution Center, the Largest Food Center in the World. Hunts Point Cooperative Market is a 24/7 wholesale food market located on 60 acres with revenues exceeding $2 billion annually. It is comprised of over 800 food wholesalers, distributors and food processing businesses and it employs over 25,000 workers.
Finally, the property is Right off the Bruckner Expressway and other major highways for easy quick access to Manhattan and other boroughs. It is also located steps from the 2, 5 and 6 Subway Train Lines. The Property is located only two blocks away from the already approved Metro-North Train Stop in Hunts Point.
The property was exclusively marketed by Andrew Lichtenstein who was the sole source that procured the buyers as well. LichtensteinRE has been actively selling multifamily property and setting sales records for its clients in and around New York City, especially in Brooklyn and the Bronx.
About LichtensteinRE
LichtensteinRE specializes in the exclusive sales of multifamily and mixed use commercial real estate properties in New York City's 5 boroughs. LichtensteinRE is a full service Commercial Real Estate Sales, Financing and Advisory Service Boutique based in New York City, the financial capital of the world. LichtensteinRE's proven experience, track record, financing ability, exclusive buyers and connections with tens of thousands of property owners assures their selling clients the best possible price when a landlord owner wants to sell their property.
DoctorMortgage, which is LichtensteinRE's financing division, has been a leader in commercial real estate mortgage debt financing since 1991. DoctorMortgage is able to negotiate and facilitate financing to deliver the best price, leverage and return on investment possible.
LichtensteinRE's greatest ability is creativity and problem solving. After selling the owner's property, LichtensteinRE has assisted successful sellers in locating replacement 1031 tax deferred exchanges and in some cases has more than doubled the seller's net income post-closing. To learn more contact Andrew Lichtenstein at (800) 242-9888 or [email protected]
Contact Information:
LichtensteinRE
Tatiana Lichtenstein
917-379-9592
Contact via Email
lichtensteinre.com
Read the full story here: https://www.pr.com/press-release/737746
Press Release Distributed by PR.com