Principled Technologies Publishes Report Comparing Three-Year Total Cost of Ownership of an On-Premises Dell EMC PowerEdge FX2 Solution to Amazon Web Services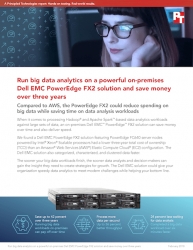 Durham, NC, February 06, 2018 –(PR.com)– Organizations can save money while getting speedy big data analytics for marketing campaigns, product improvement, or operational efficiency. Principled Technologies (PT) compared an on-premises Dell EMC PowerEdge FX2 solution featuring PowerEdge FC640 server nodes powered by Intel Xeon Scalable processors to an Amazon Web Services (AWS) Elastic Compute Cloud (EC2) configuration. The Dell EMC solution had a lower three-year total cost of ownership and categorized, characterized, and clustered data faster.
According to the report, "An organization can save up to $106,111 over three years with the Dell EMC solution processing machine learning tasks. This is a 42 percent reduction in spending compared to the AWS solution."
To learn more about how organizations could save money and time for big data workloads with a Dell EMC PowerEdge FX2 solution, read the full report at http://facts.pt/s4696b, see the infographic at http://facts.pt/29hGEd, and watch the video at http://facts.pt/PWjEZT.
About Principled Technologies, Inc.
Principled Technologies, Inc. is the leading provider of technology marketing and learning & development services.
Principled Technologies, Inc. is located in Durham, North Carolina, USA. For more information, please visit PrincipledTechnologies.com.
Natasha Simmons
Principled Technologies, Inc.
1007 Slater Road, Suite #300
Durham, NC 27703
[email protected]
Contact Information:
Principled Technologies, Inc.
Natasha Simmons
704-712-1115
Contact via Email
http://www.principledtechnologies.com/
Read the full story here: https://www.pr.com/press-release/735063
Press Release Distributed by PR.com